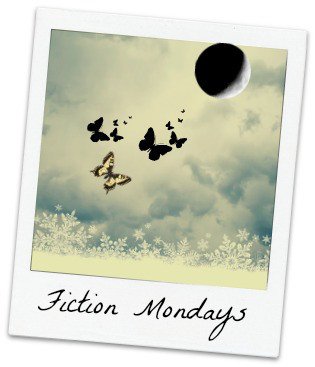 Fiction Mondays is a writer's showcase posted every Monday. My goal eventually is to feature writers work here. Amateur, to published  writers, and those who love the written word. To express and receive feedback. The writing can be fan-fiction, original short stories, poetry  as well as sneak peaks of published authors latest release. Some of you may recognize and love while other will be a new discovery.
Browse Inside Across a Star-Swept Sea by Diana Peterfreund.
---
ONE
If the wild Poppy dared return to Galatea, Citizen Cutler was ready. He'd stationed armed guards at the entrance to the estate and placed an additional ten soldiers around the perimeter of the taro fields. Though no Reduced could even attempt escape. Cutler knew the real danger came from outside. The flowery Albian spy had "liberated" at least a dozen enemies of the revolution in the last few months, but it wouldn't happen on Cutler's watch.
During the better part of the morning, a sea breeze had moved across the sunken fields, stirring the taro leaves and making the water shiver and ripple like the skin of a snake. The Reduced prisoner moved slowly and methodically through their plts, following an ancient and frankly, unnecessary tradition of cutting each root by hand and replanting the stalk to be ready for the next harvest.
The former lord of the estate- his name was Lacan, though Cutler doubted the man remembered it after being Reduced-sloshed and stumbled through the field, hacking away at the taro stalks with a knife entirely for the purpose. His gray hair was matted to his neck with sweat and mud, and his once haughty mouth hung slack and stupid, and the blade sank deep into his thumb. . . . read more
Note to Publishers, writers of the original content. All excerpt posted on this blog are not meant to exploit or take away in way from its original content. But to promote and engage the readers interested in reading these books. Thank you. 
---
Just a girl mad about books and loves to talk about them. I read, and blog about books. I also review books on
YouTube
, I watch a lot of Youtube videos. I'm obsessed with HGTV design make over shows. Fan of Dr Who and so many other tidbits that make me, me.
Latest posts by Sonya Stephen (see all)