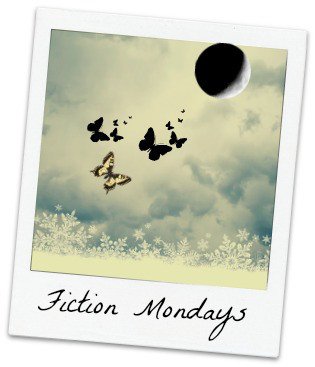 Fiction Mondays is a writer's showcase posted every Monday. My goal eventually is to feature writers work here. Amateur, to published  writers, and those who love the written word. To express and receive feedback. The writing can be fan-fiction, original short stories, poetry  as well as sneak peaks of published authors latest release. Some of you may recognize and love while other will be a new discovery.
Browse Inside The Burning Sky by Sherry Thomas.
---
Prologue
Just before the start of the summer Half, in April 1883, a very minor event took place at Eton College, that venerable and illustrious English public school for boys. A sixteen-year-old pupil named Archer Fairfax returned from a three month absence, caused by a fractured femur, to resume his education.
Almost every word in the preceding sentence is false. Archer Fairfax had not suffered a broken limb. He had never set foot in Eton. His name was not Archer Fairfax. And he was not ,  in fact even a he.
This is the story of a girl who fooled a thousand boys, a boy who fooled an entire country, a partnership that would change the fate of realms, and a power to challenge the greatest tyrant the world had ever known.
Expect magic.
 Chapter One
Fire was easy.
In fact, there was nothing easier.
They said that when an elemental mage called forth flame, she stole a little from every fire in the world. That would make Ioalanthe Seabourne quite a thief, gathering millions of sparks into one great combustion. That flame she sculpted into a perfect sphere ten feet across, suspended above the rushing currents of the River Woe.
She beckoned with her fingers . Streams of water shot up and arched over the fireball. Stray droplets gleamed briefly under the sun before falling into to the flame, releasing sizzles of steam. Master Haywood, her guardian, used to love watching her play with fire. He had not been alone in his fascination. Everyone, from neighbors to classmates, had wanted her to show them how she made little fireballs dance upon her palm, the same way Iolanthe,as a child, had asked Master Haywood to wiggle his ears, clapping and laughing with delight.
Master Haywood's interest, however had run far deeper. Unlike others who simply wished to be entertained, he'd challenged her to make intricate, difficult patterns and draw entire landscapes with filaments of fire. And he'd say, My, but that is beautiful, and shake his head with wonder-and sometimes, something that felt almost like unease. read more…
Note to Publishers, writers of the original content. All excerpt posted on this blog are not meant to exploit or take away in way from its original content. But to promote and engage the readers interested in reading these books. Thank you.
---
Just a girl mad about books and loves to talk about them. I read, and blog about books. I also review books on
YouTube
, I watch a lot of Youtube videos. I'm obsessed with HGTV design make over shows. Fan of Dr Who and so many other tidbits that make me, me.
Latest posts by Sonya Stephen (see all)