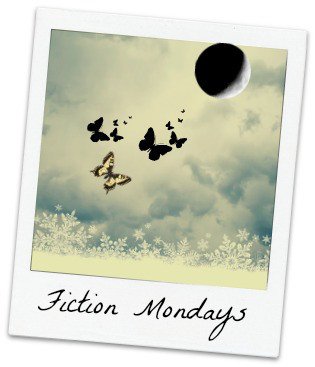 Fiction Mondays is a writer's showcase posted every Monday. My goal eventually is to feature writers work here. Amateur, to published  writers, and those who love the written word. To express and receive feedback. The writing can be fan-fiction, original short stories, poetry  as well as sneak peaks of published authors latest release. Some of you may recognize and love while other will be a new discovery.
Browse Inside The Last Apprentice: I Am Alice (Book 12) by Joseph Delaney, Illustrated by Patrick Arrasmith.
---
I'm a bad girl, bad inside.
My hair is kindling; my flesh tallow; my bones dry twigs.
One day I'll burn in the fires of hell. As sure as eggs rot, that's the truth.
So there ain't no use denying it.
My name is Alice
Prologue
The destruction of the Fiend may be achieved by the following means. First the three scared objects must be at hand. They are the heirs swords forged by Hephaestus. The greatest of the is the Destiny Blade: the second is the dagger called the Bone Cutter, which will be given to you by Slake. The third is the dagger named Dolorous, sometimes called the Blade of Sorrow, which you must retrieve from the dark.
The place is also important. It must be one especially conductive to the use of magic. Thus the ritual must be carried out on a hill east of Caster, which is known as the Wardstone. The blood sacrifice should be made in this precise manner. A fire must be constructed -one capable of generating great heat.
To achieve  this, i will be necessary to build a forge. Throughout the ritual, the willing sacrificial victim must display great courage. If she once cries out to betray her pain, all will be lost and the rite will fail.
Using the dagger Bone Cutter, the thumb must be taken from the right hand and east into the flames. Only if she does not cry out may the second cut be made to remove the bones of the left hand. These also are added to the fire.
Next using the dagger Dolorus, the heart must be cut out of the victim and, still beating, cast into the flames. Read more. . .Browse Inside The Last Apprentice: I Am Alice (Book 12) by Joseph Delaney, Illustrated by Patrick Arrasmith.
Note to Publishers, writers of the original content. All excerpt posted on this blog are not meant to exploit or take away in way from its original content. But to promote and engage the readers interested in reading these books. Thank you.
---
Just a girl mad about books and loves to talk about them. I read, and blog about books. I also review books on
YouTube
, I watch a lot of Youtube videos. I'm obsessed with HGTV design make over shows. Fan of Dr Who and so many other tidbits that make me, me.
Latest posts by Sonya Stephen (see all)